Substation Diagnostics College 2023
May 16 @ 9:30 am

-

May 17 @ 4:00 pm

£230.00 – £325.00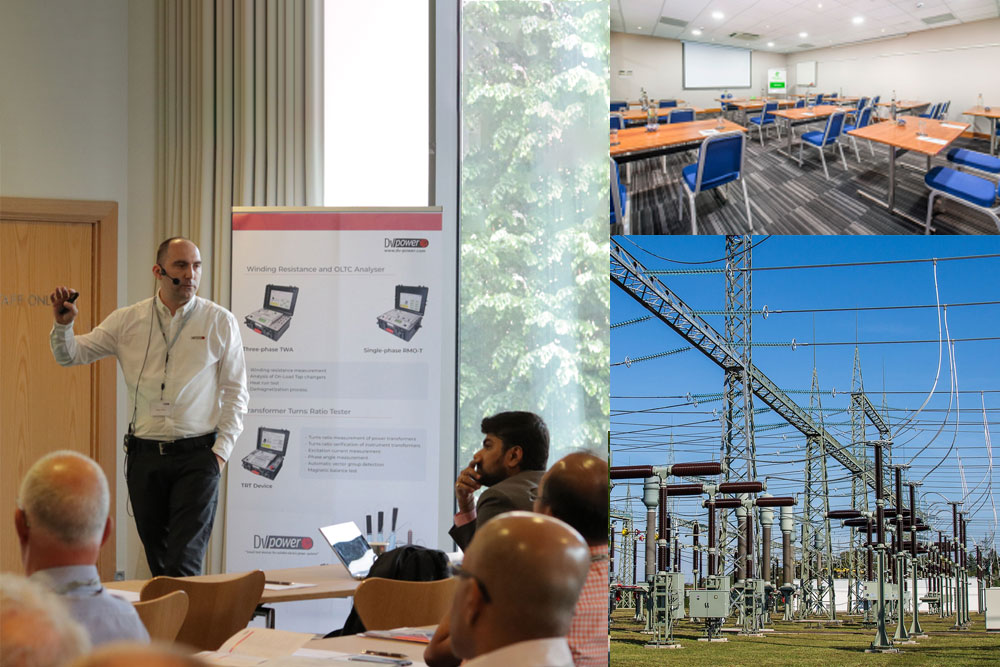 About the event
In collaboration with DV Power, Drallim Industries Ltd cordially invites you to the 10th Substation Diagnostic College (SDC). This 2-day event will take place in Gatwick, UK, May 16th – 17th, 2023. The industry's top manufacturer Hitachi Energy along with DV Power experts will be on hand to provide answers to your questions, and expand your experience with hands-on demonstrations.
Previous Substation Diagnostic College events:
• Egypt, 2014
• Thailand, 2014
• China, 2015
• Poland, 2017
• Kuwait, 2018
• Kenya and Nigeria, 2019
• Sri Lanka, 2019
• Belgium, 2021
• United Arab Emirates, 2023
All those who want to learn about maintenance testing of the main elements of the substation: Power Transformers and OLTC's, Circuit Breakers, Ground integrity and Batteries used in back-up systems are welcome at this event. The main goal of the seminar is to introduce the participants to the latest testing and inspection methodologies and to provide quick knowledge transfer. This is a unique opportunity to learn how to investigate the health of a transformer, circuit breaker, ground grid integrity and battery using new state-of-the-art portable and hand-held diagnostic tools. The industry's top manufacturer Hitachi, along with DV Power experts, will be on hand to provide answers to your questions and expand your experience with hands-on demonstrations.
Our international SDC is a technical seminar structured for substation engineers, plant engineers, and equipment reliability specialists from power utilities, transmission and distribution utilities as well as service and maintenance teams from independent companies.
Speakers
Mr. Vedran Mulic – DV Power
Mr. Alan Dorfer – DV Power
Mr. Mario Cadenas – Olmos – Hitachi
About the schedule
Day 1 – May 16th, 2023 (9.30am to 5.00pm)
Transformer testing and condition assessment
The first session will present the basic transformer test routines to assess the condition of a transformer. The standardised test methods will be elaborated on: winding resistance measurement, transformer turns ratio and excitation current test, transformer demagnetisation, sweep frequency response analysis, etc. Participants will meet important features of the test devices.
On-Load Tap Changer Diagnostics
The participants will have the opportunity to learn about the OLTC design and operating principles and meet the OLTC testing methods. The advantages and disadvantages of certain methods will be discussed. The focus of the session is the Dynamic Resistance Measurement (DVtest) method as well as the guidelines for the analysis of the results.
Transformer digitalisation & transformer bushings
Our partners from Hitachi Energy company will be focused on the new technologies related to the transformer's digitalisation, market energy trends, values of digital solutions, sensors, etc. There will be a discussion about the different transformer failure modes, as well as the technologies related to HV Bushings and their diagnostics. Moreover, they will be open for Q & A session after each presentation.
Day 2 – May 17th, 2023(8.00am to 4.00pm)
Circuit breaker testing
The participants will meet the circuit breakers' fundamentals, different testing methods, and inspection of different CB components (main contacts and auxiliary circuit, operating mechanism, etc.). New and innovative testing approaches will be presented such as dynamic resistance, "first trip" test, testing under BSG conditions, etc.
Ground grid integrity/continuity testing
On the second day of the event, an interesting topic will be covered regarding the inspection of the integrity and continuity of the grounding systems in substations. A high-current test method described in IEEE 80 will be discussed.
Battery testing
This session will provide relevant information about the maintenance and testing of battery systems and present key information about the capacity test, internal resistance test, and battery charging.
About the special price
The early bird price for this (if you enrol before March 17th) is £230.00 per attendee. This rate is inclusive of a 3-course evening meal on the 16th, which includes a vegetarian option.
If you purchase 4 early bird tickets you will receive a 5th free of charge. 
About the accommodation and transportation
For those arriving by plane or train, the holiday Inn is just half a mile from the airport (and rail station) and can be reached by boarding the airport shuttle bus from either the South or North airport terminal @ £4 per person. This shuttle service runs every 20 minutes during the morning before 9am, and thereafter every 40 minutes until 4pm when it reverts back to 20 minute intervals. Complimentary parking is available for those arriving by car.
A special Hotel B & B rate of £85/person/night for the 15th, 16th and 17th have been negotiated and you can obtain this rate by quoting "SUB" to The Holiday Inn on booking either by telephone on 01293-787609 (office hours from 8:30am – 5pm Monday to Friday) or by email to [email protected] The above rate is only available for bookings made before March 31st. Bookings made after March 31st will revert to the normal Holiday Inn B & B rate.