Description
Key features of the RMO40TT are:
On-load tap changer dynamic resistance measurement
Three resistance measurement channels
Four temperature measurement channels
Automatic resistance/temperature measurement for the Heat Run test
Rapid automatic demagnetization
Vibration measurement
Tap changer motor current monitoring channel
Automatic discharge circuit
Built-in tap changer control unit
Detailed analysis of test results using DV-Win software
Included accessories

DV-Win PC software including USB cable
Built-in Tap Changer Control Unit
Tap Changer Control cable
5 m
Mains Power cable
Ground (PE) cable

Recommended accessories

Current cables 2 x 10 m 10 mm2   (7 AWG) and Sense cables 2 x 10 m with TTA clamps
Sense cables 2 x 2 x 10 m
with TTA clamps
Current connection cable 2 x 5 m 10 mm2 (7 AWG) with TTA  clamps
Cable plastic case – medium size
Current clamp 30/300 A supplied from the instrument with extension 5 m
Transport case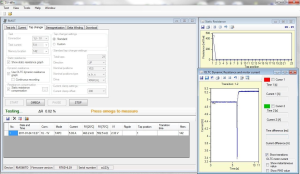 DV-Win software is included in the purchase price, and all updates are free of charge. The intuitive software enables remote control of the RMO-T unit during test. DV-Win facilitates in-depth analysis of test results which can be displayed numerically and graphically on a PC or within an automatically generated report. It is possible to export all test data into all mainstream file types.