Description
Key features of the RMO10TW are:
Three resistance measurement channels
One temperature measurement channel
Test current of 5 mA to 10 A DC
Accuracy of 0.1 %
Lightweight at 8 kg
On-load tap changer verification
Automatic resistance measurement for the Heat Run test
Rapid automatic demagnetisation
Automatic discharge circuit
Resistance measurement of transformers, rotary machines and non-inductive objects
Included accessories

DV-Win software
USB cable
Mains power cable
Ground (PE) cable

Recommended accessories

Current cables 2 x 10 m 2,5 mm2(13 AWG) and Sense cables 2 x 10 m with TTA clamps
Sense cables 2 x 10 with TTA clamps
Current connection cable 1 x 5 m 6 mm2 ( 9 AWG) with TTA clamps
Transport case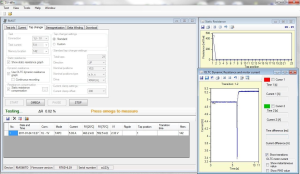 The DV-Win software enables control and observation of the test process, as well as saving and analyzing the results on a PC. It provides a test report, arranged in a selectable form as an Excel spreadsheet, PDF, Word, or ASCII format. The software provides an OLTC (tap changer) condition assessment through analysis of the graphs representing dynamic resistance values during the tap changer transitions.
Additionally, the DV-Win measures and calculates the OLTC transition time, the ripple and the winding resistance for each tap changing operation.
The software can also perform the calculations necessary for the "Heat Run" test. All results can be exported in the report format.
The standard interface is USB. RS232 is optional.