Description
RMO-D series contain 3 models of powerful and lightweight micro ohmmeters:
RMO200D – test current from 5 to 200 A, weighs only 9 kg
RMO500D – test current from 5 to 500 A, weighs only 12 kg
RMO600D – test current from 5 to 600 A, weighs only 12 kg
Measuring range: 0.1 μΩ – 999.9 mΩ
Resolution: 0.1 μΩ
Typical accuracy: ± (0.1 % rdg + 0.1 % FS)
Remote Control Unit (optional)
Both Sides Grounded Unit (optional)
SINGLE / CONTIN / BSG / DTRtest modes
DEMAGNETIZATION feature
Included accessories
DV-Win PC software
USB cable
Mains power cable
Ground (PE) cable
Recommended accessories
Current cables 2 x 5 m (16.4 ft.),       XX* mm2 with battery clips
Sense cables 2 x 5 m with alligator clips
Transport case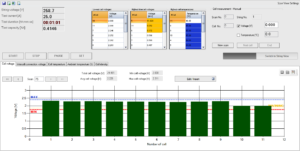 DV-Win software is included in the purchase price, and all updates are free of charge. The intuitive software enables remote control of the RMO unit during test. DV-Win facilitates in-depth analysis of test results which can be displayed numerically and graphically on a PC or within an automatically generated report. It is possible to export all test data into all mainstream file types.