Description
The CAT-P displays numerical and graphical results (it can overlay up to 4 records in graphical form). This enables quick onsite analysis of potential defects by comparing measured test results. As with all DV Power instrumentation, this tester comes complete with intuitive analytical software for detailed CB analysis.
The CAT-P has the following key features:
Portable (1.4 kg)
Internal battery power supply
Online measurement (First trip test)
Offline measurement
DC voltage and DC current measurement
Touch screen color display 145 mm (5.7 in)
On-site analysis of test results (overlay up to 4 records in graphical form)
Test results analysis and comparison with results obtained from other CAT instruments using DV-Win software
Included accessories
DV-Win software including USB stick and USB cable
Resistive touch pen
Plastic transport case
Mains power cable with adapter
Recommended accessories
Main contact cables 8 m with alligator clamps (A1)
Main contacts connection 3 x 1 m and ground 2 m cable with alligator clamps (A1)
Voltage sense cable set 2 x 5 m 2,5 mm2 with banana plugs
Dolphin clip (black)
Dolphin clip (red)
Current clamp 30/300 A power supplied from the instrument with extension 5 m
AC current clamp 1 A / 1 V with cable 5 m (x 3)
Plastic transport case for accessories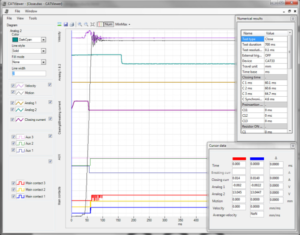 DV-Win allows graphical presentation of measurements and timing test results using cursors and powerful zoom functions for detailed analysis. Colours, grids, scales and positioning of the test data are all controlled by the user. DV-Win supports an automatic unit conversion (e.g. cycles to seconds or mm to inches). The test records can be exported into all mainstream file formats.