Drallim's range of heavy duty lashings known as aircraft tie downs or storm lashings are regularly used around the world to secure embarked aviation on board ship. In some cases, they are also used as a general-purpose lashing for securing various alternative heavy and demanding cargo applications where secure restraint is critical to mission success.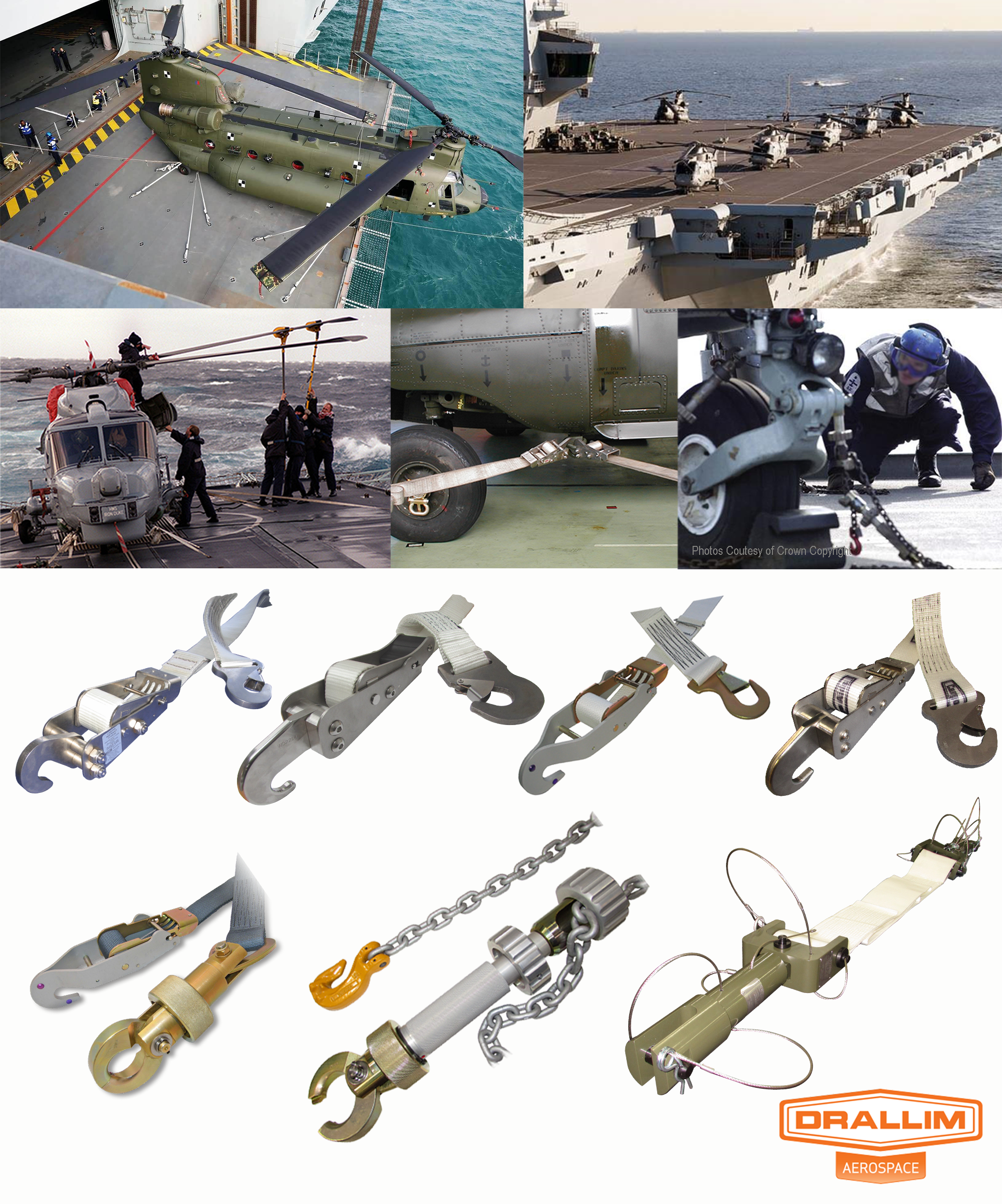 The design provides users with a slim-line light weight securing restraint that through its unique action makes it impossible to over tension. The polyester/nylon webbing has a fast-single action, over centre mechanism that gives tension and locking in one swift movement. This makes it ideal for connection to aircraft structures where composite materials are present. Quick release is also achieved in one easy action.
Designed originally for securing rotary wing aircraft on deck the MC1 and MC2 are widely used by navies and marine agencies around the world for securing all manner of cargo. But it is for aviation purposes that they are both renowned, with the MC1 commonly used as part of a lashing kit to secure airframes in the light to medium 1,500Kg to 8,000Kg class and the MC 2 for larger airframes above 9,000Kg. Whether used in naval applications or on the latest super Yacht, these two lashing alone pretty much cover the full spectrum of embarked aviation.
Custom Webbing
Ratchet strops can be produced to most strengths and sizes in any configuration that may be required to satisfy the task. Other options of fastening are always available including over-centre buckles, non-sew hooks, and one-way buckles in many varied materials.
Custom Lashings
Drallim Aerospace recognises that your immediate requirement may be non-standard and will need a customised approach. In which case, we are always ready to provide advice and guidance to ensure the most practical and cost-effective solution is taken to satisfy your need. View our Lashings and Webbing brochure to see what we can do for you.