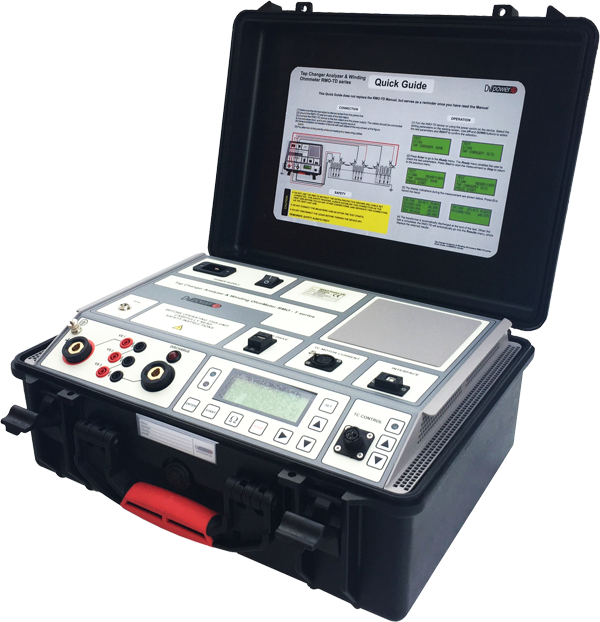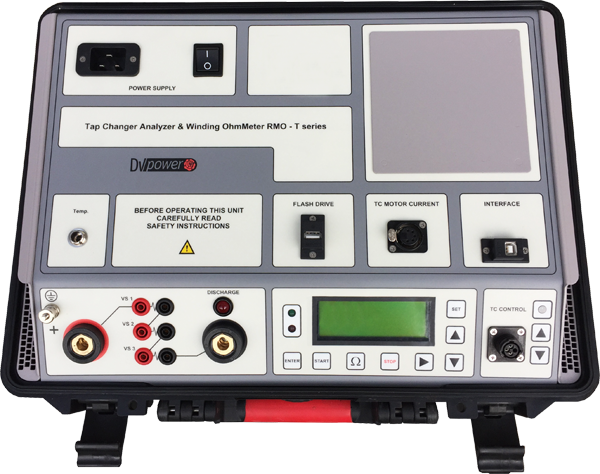 Test currents 5 mA – 60 A DC
On-load tap changer dynamic resistance measurement
Three resistance measurement channels
Rapid automatic demagnetization
Tap changer motor current monitoring channel
Automatic discharge circuit
Built-in tap changer control unit
Detailed analysis of test results using DV-Win software
USB flash drive feature
The Tap Changer Analyzer & Winding Ohmmeter RMO60TD instrument is designed for winding resistance measurement of inductive objects, and for a tap changer analysis. The RMO60TD instrument is based on the state of the art technology, using the most advanced switch mode technology available today. The RMO60TD instrument is accurate (0,1%), powerful (up to 60 A) and lightweight. It generates a true DC ripple free current with automatically regulated measurement and discharging circuit.
The RMO60TD instrument can perform a simple, quick and reliable transformer on-load tap changer condition assessment. This instrument enables measurements of a winding resistance in every tap position, current ripple values (percentage of a current drop during a tap change) and transition times during the tap changes. Problems with a connection, contacts, and selector/diverter switch operation (tap change with interruption) can be detected with these measurements.
Included accessories

DV-Win PC software including USB cable
Built-in Tap Changer Control Unit
Tap Changer Control cable 5 m (16.4 ft)
Mains Power cable
Ground (PE) cable

Recommended accessories

Current cables 2 x 10 m 10 mm2(32.8 ft, 7 AWG) and Sense cables 2 x 10 m (32.8 ft) with TTA clamps
Sense cables 2 x 10 m (32.8 ft) with TTA clamps
Current connection cable 1 x 5 m 10 mm2 (16.4 ft, 7 AWG) with TTA clamps
Cable bag
Current clamp 30/300 A supplied from the instrument with extension 5 m (16.4 ft)
Transport case

Optional accessories

Test shunt 150 A / 150 mV
Thermal printer 80 mm (3.15 in) (built-in)
Current cables 2 x 15 m 10 mm2(49.2 ft, 7 AWG) and Sense cables 2 x 15 m (49.2 ft) with TTA clamps
Current cables 2 x 20 m 16 mm2(65.6 ft, 5 AWG) and Sense cables 2 x 20 m (65.6 ft) with TTA clamps

Bluetooth communication module

PT100 temperature indicator
The DV-Win software enables control and observation of the test process, as well as saving and analyzing the results on a PC. It provides a test report, arranged in a selectable form as an Excel spreadsheet, PDF, Word, or ASCII format. The software provides an OLTC (tap changer) condition assessment through analysis of the graphs representing dynamic resistance values during the tap changer transitions.
Additionally, the DV-Win measures and calculates the OLTC transition time, the ripple and the winding resistance for each tap changing operation.
The software can also perform the calculations necessary for the "Heat Run" test. All results can be exported in the report format.
The standard interface is USB. RS232 is optional.