Product Calibration Management
In addition to calibrating our own products and instruments Drallim offer these services to complement Post Design Services and Support activities. High Voltage Electricity transmission cable test equipment is an example of an area of specialist calibration expertise.

Equipment Servicing and Repair
Drallim service and repair all their range of products. We can meet the challenges of obsolescence by offering updated assembly replacement, for example. Our commitment to customers is borne out by our ability to maintain the original performance parameters of products for decades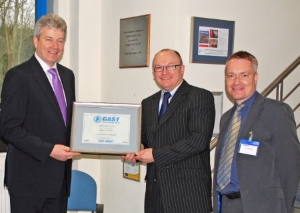 The Gast Group awarded its first Accredited Service Centre status to Drallim Industries. The award authorises Drallim to service, repair and refurbish Gast H Series compressors, which are used on compressor desiccator units manufactured by Drallim and supplied to British Telecom and on Drallim's own range of Waveguide Dehydrators.
The occasion was marked with a visit from Gast Group UK managing director Adrian Lee and OEM account manager Andrew Lidington who, following a facility visit, presented Drallim's managing director Dave Mooney with the award.
Commenting for Drallim, Dave Mooney says: "We are delighted with the appointment, which follows a stringent audit of the repair methods and processes used during manufacturing in our new dedicated compressor repair area. We are also proud to be the first company to have its service centre accredited by the Gast Group."