The DTS Series of Oil/Liquid Dielectric AC test sets provide repeatable and accurate measurement of the breakdown voltage of insulating fluids used in transformers, circuit breakers, bushings, capacitors, etc. The test sets are rugged, reliable, and designed with field use in mind.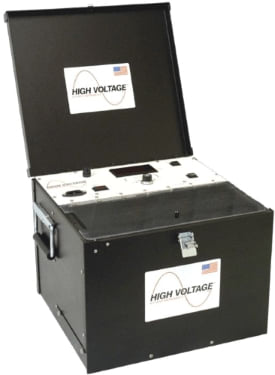 "0–60 kVac and 0–100 kVac"
The DTS-60D and the DTS-100D each have the following features:
Three motorized rates of rise: 500V/2000V/3000V per second
Rate of rise selector switch
Arc detection with automatic shutdown
Zero Start safety and test chamber interlock provision
One-piece portable design
Window panel for test observation
Failure indicator
Accessory outlet located within test chamber
High Voltage, Inc. offers 60kV and 100kV test cells capable of testing to ASTM D877 and D1816 and IEC 156 standards.
The DTS-60AF is a fully automatic liquid dielectric test set, typically used for testing the voltage breakdown level of insulating oils. The most commonly used testing standards are pre-programmed into the controls. Just hit the start button and the test is performed. Custom test sequences can also be programmed. The results are stored internally for downloading to a computer and/or for printing on the printer included.