Power transformers are an essential component in UK's electricity distribution network. Their considerable cost & critical functionality dictate that their condition should be constantly assessed to allow the timely detection of incipient faults. This is easily achieved by monitoring and analysing the dissolved gas levels in the transformer oil using an MTE (Meter Test Equipment) Hydrocal instrument. Dissolved Gas Analysis (DGA) is recognised as the most useful tool for early incipient fault detection and its cost effectiveness is understood worldwide. A Hydrocal's pre-emptive information can reduce transformer maintenance times, improve its safety and help to extend its operational lifetime.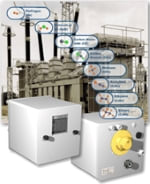 MTE is represented in the UK & Ireland by Drallim Industries whose Sales & Service teams can provide MTE's entire equipment range with full product support
The importance of insulation testing often becomes apparent during expensive & unnecessary unplanned outages. HV Inc provides a range of equipment for VLF testing up to 200kV peak as well as for DC up to 300kV and power frequency AC testing up to 300kV enabling users to conduct insulation, withstand, PD and Tan δ tests. This includes portable as well as higher power options for proof testing of cables, switchgear, motors, transformers, insulators, generators and other electrical apparatus. The range extends to manual and automatic oil dielectric test sets up to 100kV and to HV dividers. Popular test equipment includes the VLF 34E the PFT-1003CMF and the ALT 120/60 (for Insulated Work Platforms).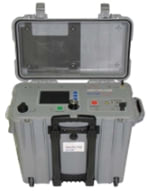 HV Inc is represented in the UK & Ireland by Drallim Industries whose Sales & Service teams can provide all the range of HV Inc equipment and full product support.
Drallim's Anti-Condensation System (DACS) is a microprocessor controlled heater that uses Dewpoint Innovation. This intelligent system monitors humidity and temperature and ensures that the heaters mounted within externally located electrical enclosures are only powered up as required to maintain a condensation free environment within them. It has been specifically designed in response to an industry need to improve system reliability and reduce enclosure electricity heating costs with no loss of protection to the other electrical apparatus mounted within the same enclosure during inclement weather conditions. The system comprises a master unit (100W) and up to three 100W slave units and has an attractive payback when compared to continuous heaters.
Pressurised oil filled cables have proven to be a successful and widely used solution for the underground transmission and distribution of electricity up to 400kV. Many of these cables are still in use today but as they age they begin to leak oil, infringing upon environmental legislation and leading to potential insulation breakdown. Replacement of complete cables is often expensive and difficult, so management of them is often seen as the best solution. Drallim's OILMON system provides users with a tool to monitor the pressures, temperatures and electric currents associated with these cables to help them reduce their oil losses and maintain safe insulation levels. Its algorithm also provides them with a tool to facilitate planned preventative maintenance, work prioritisation, cable replacement strategy and provides time stamped data records.