Drallim Industries Limited is the sole UK & Ireland representative of High Volateg Inc. (HVI) who specialise in the design and manufacture of high voltage insulation and dielectric test equipment used worldwide by utilities, testing service companies, electrical contractors, large industrials, and electrical apparatus OEMs. HVI produces the most technically advanced, portable and easy to use products for high voltage proof, diagnostic evaluation and preventive maintenance testing of electrical substation apparatus, aerial lifts, power cable, and other products designed to operate under medium or high voltage conditions. If you require any assistance selecting equipment that best meets your specifications please contact our friendly team.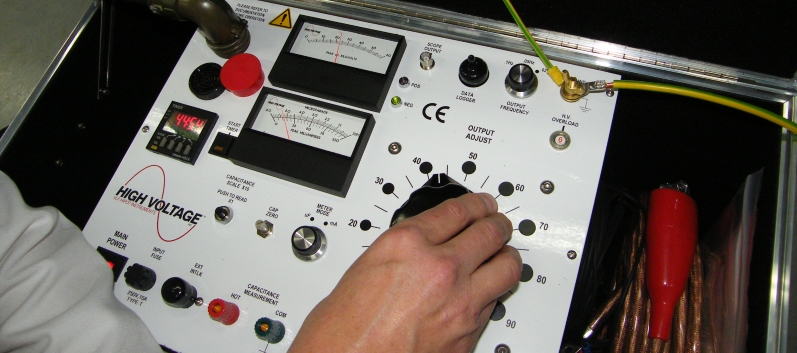 The HV Inc range of DC Hipots are higher in power output and offer many significant advantages over any competition, yet are equal or smaller in size and lighter in weight. With the capability of carrying out cable insulation megohm testing and HV proof testing the PTS range is especially designed for field testing applications.
The PFT Series of AC Hipots are ideal for testing many types of substation apparatus, motors/generators, isophase bus, and other loads requiring an AC withstand test. The HV Inc AC Hipots are among the smallest, lightest, and most economical available while delivering higher power ratings and features not found elsewhere.
A host of higher power AC Test Sets are available up to 40kVA for performing AC withstand testing on all types of electrical apparatus. Various control packages are available: simple manual controls, automated and computer compatible controls, and fully microprocessor based controls for complete test automation and data collection.
The VLF range of test sets are perfectly suited for testing high capacitance loads such as cable and rotating machinery. This is a pass-fail test i.e. bad cable will fail during testing rather than in service. VLF can also be used as the voltage source for diagnostic cable testing such as Tan Delta and Partial Discharge.
These Oil Dielectric AC Test Sets provide repeatable, accurate measurement of breakdown voltage of insulating oils used in electrical equipment. These versatile, lightweight yet rugged units have been designed for both field and laboratory use.
These precision resistor/capacitor high voltage dividers are available at 150kV and 300kV.