Top Management Commitment to Quality
Drallim Industries' Top Management recognises the importance of quality and is committed towards maintaining the Quality Management System to the latest edition of AS9100 incorporating BS EN ISO 9001 and endeavours to lead the company toward the continuing improvement of its performance.
Drallim Industries Limited operates within its formal Quality Objectives to:
ensure the satisfaction of our customers at all times
provide products and services which aim to be "right first time, every time"
commit to the on-going development and education of its employees
The company sets objectives annually through management review in order to meet the required quality standards expected by our customers
Drallim and the PDCA cycle
Drallim Industries Limited operates its approved quality management system in accordance with its own quality manual, based around AS9100 and BSEN9001 which facilitates the PDCA cycle leading to continuous improvement, not only of its own quality management system but also of its commitment to attain the highest level of customer satisfaction it can.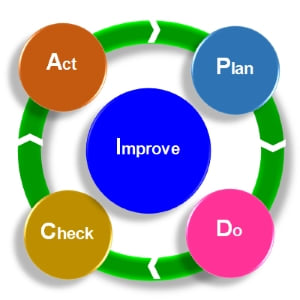 Plan – Plan the process, service or activity
Do – Implement the process, service or activity
Check – Verify the process, service or activity
Act – Act to implement any changes required
Improve – Improve the process, service or activity by repeating the cycle
Quality auditing of the management system
Our in-house auditors review all company processes on a risk based auditing structure with an aim to continuously improve and enhance the effectiveness of the company's quality management systems
We are independently audited in accordance with our AS9100 incorporating BS EN ISO9001 accreditations by UKAS approved Certifying Bodies.
Quality education of employees
Drallim Industries Limited believes that quality must be supported throughout the company at all levels of employee status.
With this in mind all employees are introduction of the company quality system at the outset of their employment and this is further reinforced through ongoing continuous training, in-house and where necessary externally.
Customer care and complaint system
Customer care is the highest priority to the company, we constantly monitor our customer relationships through our customer feedback process.
In the unlikely event of any post delivery issues our sales department are ready to react, if the item can be returned they are able to guide our customers' through our Return Materials Authority process, ensuring that the item is dealt with in a timely and efficient manner to return, in the event of a non-returnable item they can arrange for an on-site visit by our technical support team.
Drallim reacting and adapting to realise the future
Our process based quality management system enables us, working with our suppliers and subcontractors, to use our group expertise in electrical, pneumatic, mechanical and electronic designs to react and adapt to customers' current and future requirements for both the UK and overseas markets.