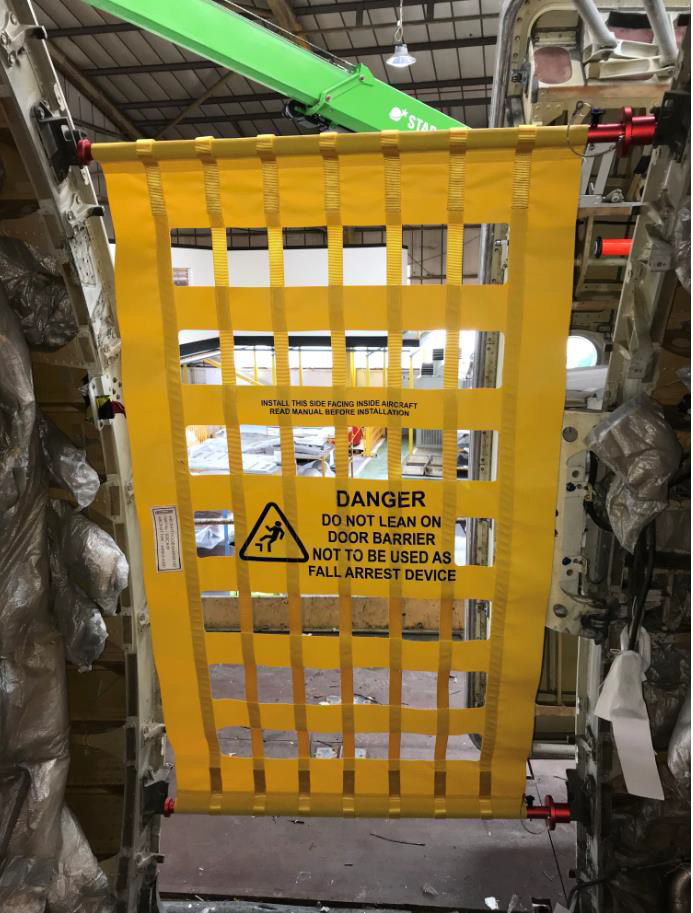 Access panels, hatches and open doors on parked aeroplanes can all be potential safety hazards for airline personnel unaware of the opening. In the past, flight attendants and servicing staff have suffered injuries and even death because of falls through these openings. Investigations have indicated that incidents of this nature are preventable by the proper and consistent use of barriers and by following strict airline policies and procedures.
During the servicing of aeroplanes between flights, passenger entry doors are often left open to allow access by caterers and servicing personnel, or sometimes in hot weather to allow the interior of the plane to keep cool. The danger occurs when the stairs or catering vehicle moves away from the opening while the door is still open. In this situation, there is nothing to stop someone on board the aeroplane from falling to the ground through the open door. Some craft do have a pull-out warning strap as a visual reminder that the door is open, but this only serves as a warning and would be unlikely to stop someone from falling through the open door.
Our safety barriers (Door nets) are designed to prevent people from falling through the open doorway. They provide efficient protection reducing risks to ALARP, essential to comply with the "Work at height regulations 2005".
In recent times we have worked closely with OEM's such as British Airways, Rolls Royce & Flybe in both designing and building MRO equipment such as hoists, Trolleys, wheel handling equipment and more, including the design and manufacture of Door Barrier Safety Nets for both Flybe and British Airways, following on from the success of these projects it became apparent that there was a market for a range of good quality and affordable door safety barrier nets. The maintenance staff of one MRO company based in Hampshire told us that although there are other nets on the market the prices were prohibitive. So, at their request, we set about designing the bespoke units to fit the airbus A320 that they were working on.
Testimonial from 2 Excel Engineering
"A big thank you to Jason and Phil who have been fantastic throughout our project requirements. I would recommend them and Drallim to anyone else in the industry who requires a responsive and customer focused manufacturing partner".
2 Excel Engineering are a Maintenance, Repair and Overhaul organisation (MRO) for Boeing, and for Airbus narrow-bodied aircraft, they serve the growing maintenance needs of the commercial airline industry. We worked closely with their team and with access to the airframe were able to design and produce the newly designed door safety barrier nets, and they couldn't have been more pleased with the final product, keeping them safe while they work.
A similar design can be adapted to fit any aircraft platform, if you have a requirement, please contact us to arrange a visit to site. Access to the aircraft would be a requirement to be able to provide the best possible service. Our dedicated sales and engineering staff travel to site and work alongside the maintenance teams for the many OEMs and charter companies to assess the aircraft's requirements and design the nets to fit each specific craft.
A range of nets are available for – Airbus A320/A321, Bombardier Q400, Embraer E170/E175, E190/E195, BA 747-400.