Bushing failures are considered as one of the major causes for transformer outages. Historically bushings were tested off-line to measure the capacitance and the dissipation / power factor.
The Bushing Monitor ZVCM-1001, which is an extension package to the MTE HYDROCAL family, is a permanently installed on-line bushing monitoring system. It continuously measures up to six leakage currents, tests the power factor and capacitance values and monitors the condition of bushings, CCVT`s 1) and free-standing CT`s.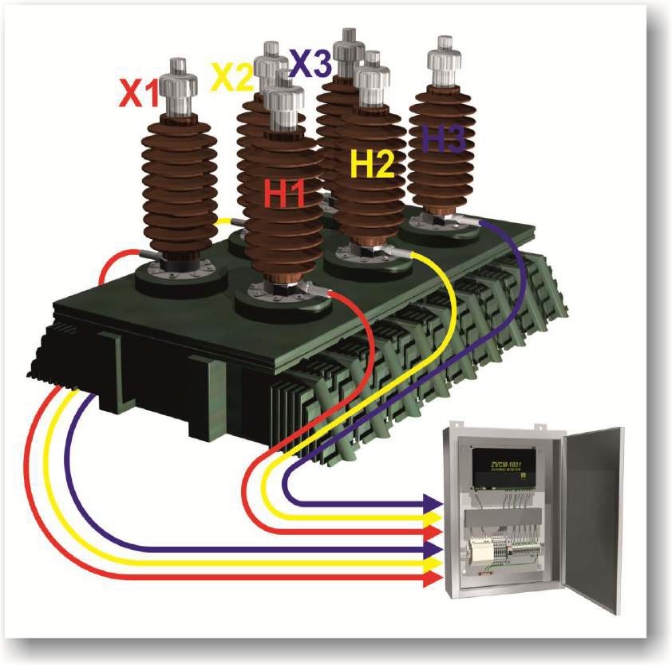 This system incorporates three measurement modes for standard and two for optional configurations:
Standard configuration with 6 current inputs:
Sum of three current test
Adjacent phase reference test
Phase comparison
Optional configuration with 3 voltage and 3 current inputs:
Reference test (3 bushings and 3 CCVTs)
Optional configuration with 6 voltage inputs:
CCVT Reference test (6 CCVTs )
Bushing sensors and adaptors are available for all types of bushings to allow leakage current measurement up to 140 mA AC. The adapters are designed for bushings with grounded and undergrounded capacitor taps. For safety purposes in the eventuality that the sensor becomes disconnected from the bushing monitoring system each adapter is designed to prevent a voltage developing on the equipment.
The ZVCM-1001 Bushing Monitor communicates directly with HYDROCAL 1005, 1008 and 1009 units to offer a complete transformer and bushing monitoring system in one package.
For more information please refer to the ZVCM-1001 data sheet. If you have any further questions or would like a quotation please contact our sales team.