The BVR11 Battery Voltage Recorder is a handheld device designed for measuring string voltage, cell voltage and ambient temperature. The BVR11 can be used to measure voltage and temperature parameters when the battery is either online or offline. With a wide measurement range of up to 500 V the BVR11 can test large battery banks as well as single batteries.
This unit can save up to 1000 measurements within its internal storage and measured variables can be displayed in histogram form on the 2.8" colour display. Data can be downloaded from the device using Bluetooth or USB and proprietary DV-Win software allows detailed data analysis of battery health.
DV Power provides a 3-year warranty on all test instrumentation. This is a guarantee to our customers that they will receive the highest quality test equipment on the market.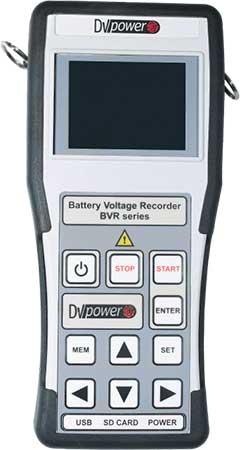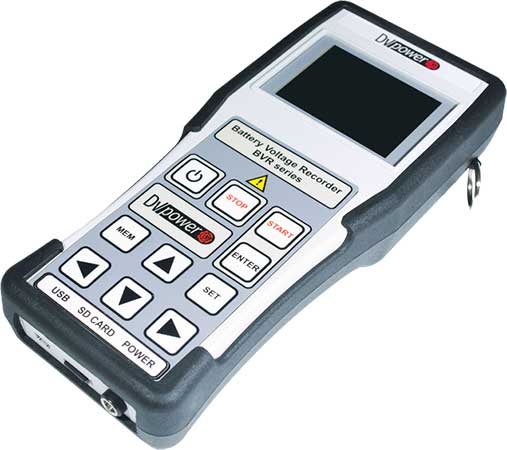 Lightweight – only 0.5 kg
Cell voltage measurement ranges: ± 30 V
String voltage measurement range: ± 500 V
Current measurement using current clamps
Ambient temperature measurement
Easy transfer of measured data to DV-B Win software
Included accessories
DV-B Win PC software
Mini USB cable
Transport bag and carrying belts
Power supply adapter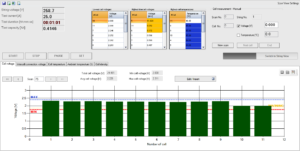 DV-Win software is included in the purchase price, and all updates are free of charge. The intuitive software facilitates in-depth analysis of test results which can be displayed numerically and graphically on a PC or within an automatically generated report. It is possible to export all test data into all mainstream file types. When this BVR device is used in conjunction with accompanying DV Power test units it is possible to use DV-Win to analyse cell voltage, string voltage, capacity and time as well as setting alarms and test termination times.