Listening to the demands of test engineers from around the world, DV Power have developed state-of-the-art battery testing and monitoring solutions to meet IEEE and IEC standards alongside a wide range of customer specific test procedures. Battery capacity testing can be performed at a constant current, constant power, constant resistance or in accordance with a pre-selected load profile. With the addition of an optional current clamp the discharge test can be completed whilst the battery is online.
DV Power provides a 3-year warranty on all test instrumentation. This is a guarantee to our customers that they will receive the highest quality test equipment on the market.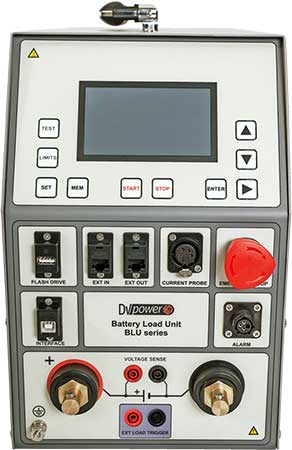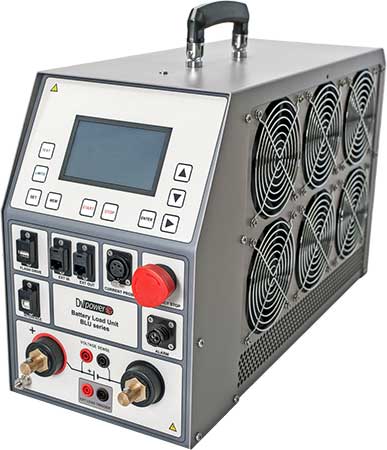 Lightweight – 14.5 kg
Powerful – discharge power up to 19.7 kW
Battery voltage: 6 to 270 V DC (min 5.25 – max 300 V DC)
Discharge current – up to 240 A DC
Battery internal resistance measurement according to IEC 60896
Expandable for larger banks using BXL-A extra load units
Current measurement range using Current Clamp 0 – 1 000 A DC
User – adjustable alarm and shutdown parameters to prevent excessive discharge
Testing without disconnecting the regular load
Detailed test analysis using DV-B Win software
Test resume feature in case of interrupted power supply
Included accessories

DV-B Win software, including USB cable
Mains power cable
Ground (PE) cable
Transport case

Recommended accessories

Current cables 2 x 3 m 35 mm2 (9.84 ft, 2 AWG) with alligator clamps (A4) isolated
Cable bag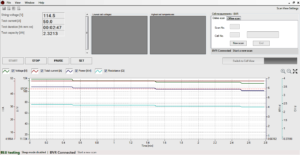 DV-Win software is included in the purchase price, and all updates are free of charge. The intuitive software facilitates in-depth analysis of test results which can be displayed numerically and graphically on a PC or within an automatically generated report. It is possible to export all test data into all mainstream file types. When this BLU device is used in conjunction with accompanying DV Power test units it is possible to use DV-Win to analyse cell voltage, string voltage, capacity and time as well as setting alarms and test termination times.