The BLU series of battery capacity testers are lightweight and have been developed to meet a customer's wide-ranging test procedure requirements (standardised as well as customised). The user-friendly BLU range provide accurate test results whilst adhering to IEEE 450-2010 / 1188-2005 / 1106-2005, IEC 60896-11/22 and other relevant standards.
The key features of the BLU Series:
Lightweight – starting from 12.8 kg
Powerful – discharge power of up to 35.7 kW
Operation modes – Constant I/ Constant P/ Constant R
Voltage measurement range – 5,25 – 650 V DC
Discharge current – up to 340 A DC
Easily expandable for larger banks using BXL extra load units
Battery internal resistance measurement according to IEC 60896
Enables testing batteries while in service
Test settings can be altered during a discharge test
Detailed test analysis using DV-B Win software
Test resume feature in case of interrupted power supply
Using state-of-the-art technology DV Power have developed this unparalleled series of technically advanced battery testers. For their voltage class the BLU Series are the lightest, most powerful, most accurate and most cost-effective battery capacity testers on the market.
DV Power provides a 3-year warranty on all test instrumentation. This is a guarantee to our customers that they will receive the highest quality test equipment on the market.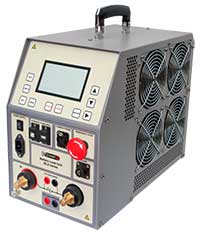 Weight: 12.8 kg
Discharge power: up to 14.2 kW
Discharge current: up to 160 A
Applicable to 5.25 – 300 V DC battery voltages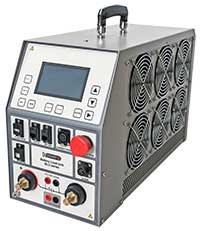 Weight: 14.5 kg
Discharge power: up to 19.7 kW
Discharge current: up to 240 A
Applicable to 5.25 – 300 V DC battery voltages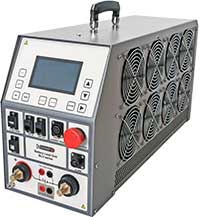 Weight: 20.6 kg
Discharge power: up to 28.4 kW
Discharge current: up to 160 A
Applicable to 5.25 – 300 V DC battery voltages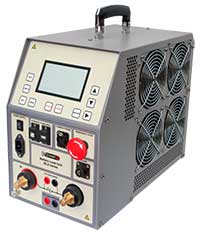 Weight: 12.8 kg 
Discharge power: up to 8.5 kW
Discharge current: up to 150 A
Applicable to 5.25 – 70,5 V DC battery voltages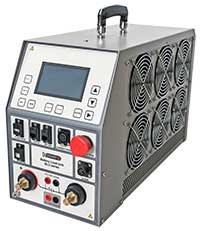 Weight: 15.1 kg
Discharge current: up to 340 A
Applicable to 5.25 – 70 V DC battery voltages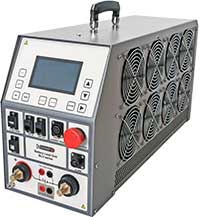 Weight: 20.6 kg 
Discharge power: up to 28.4 kW
Discharge current: up to 160 A
Applicable to 5.25 – 500 V DC battery voltages
Maximum discharge current (A)
Battery voltage (V)
BLU100A
BLU200A
BLU340A
BXL-A
BLU110T
BLU220T
BXL-T
BLU360V
BXL-V
Nom.
Min/Max
6
5.25
40
60
50
59
100
100
74
50
11
7.05
80
100
15
12
10.5
80
120
100
119
150
200
156
100
26
14.1
160
210
35
24
21.0
160
240
160
186
150
340
230
160
55
28.2
250
310
75
48
42.0
160
240
160
186
150
340
230
160
115
56.4
250
310
155
60
52.5
120
210
160
81
120
270
185
160
141
70.5
110
250
190
110
96.3
110
130
160
119
–
–
–
160
96
129.3
160
130
120
105.0
100
140
150
134
–
–
–
150
107
141.0
180
145
220
192.5
55
75
110
67
–
–
–
110
85
258.5
90
115
240
210.0
50
70
100
67
–
–
–
100
93
282.0
90
125
480
300
–
–
–
–
–
–
–
65
34
410
46
410
55
46
500
55
Weight (kg / lbs)
12.8 / 28
14.5 / 32
20.6 / 45.4
12.5 / 28
12.8 / 28.2
15.1 / 33
12.5 / 28
20.6 / 45.4
16 / 35
Max Power (kW)
14.2
19.7
28.4
25.4
8.5
19.2
17.5
28.4
35