The BXL-T Battery Extra Load Unit is designed to act as an add-on load to the BLU-T series of devices when a required discharge current or power exceeds the capacity of a single BLU-T device. A combination of BLU and BXL devices enables capacity tests to be performed in an accurate, user-friendly manner in accordance with battery testing standards IEEE 450-2010 / 1188-2005 / 1106-2015, IEC 60896-11/22 and other relevant standards.
The BLU-T device (in a BLU-BXL system) provides a control of the discharge process. The BXL-T device simulates a constant load during the discharge test and its load parameter (resistance) can be set in the discharge test preparation stage. The BXL-T provides flexibility in selecting its load capacities as several resistances can be set for majority of commercially available nominal battery voltages.
DV Power provides a 3-year warranty on all test instrumentation. This is a guarantee to our customers that they will receive the highest quality test equipment on the market.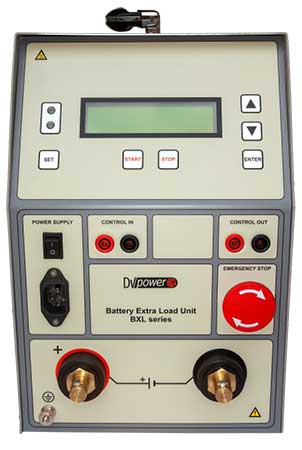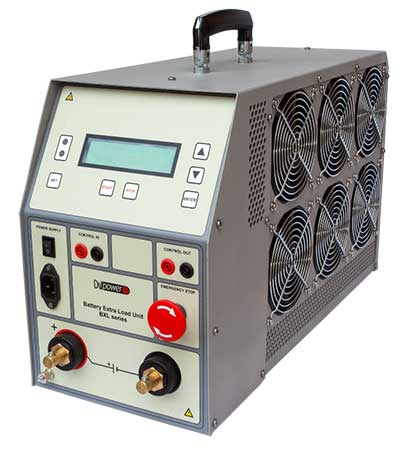 Used in a combination with BLU220T device to increase load capacity
Lightweight – 12.5 kg
Powerful – discharge power up to 17.5 kW
Voltage measurement range: up to 75 V DC
Discharge current – up to 310 A DC
Measurement resolution – current 1 A, voltage 1 V
Discharge process controlled by BLU220T device
Connects to battery terminals and parallel to BLU220T
Included accessories

Mains power cable
Ground (PE) cable
Transport case

Recommended accessories

Current cables 2 x 3 m 70 mm2 (9.84 ft, 1 AWG) with alligator clamps (A4) isolated
Cable bag