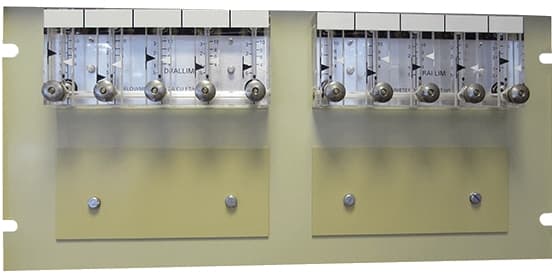 A flowmeter will provide an instant visual indication of a leak on an individual telephone cable or waveguide. It will measure the flow rate of the leak, allowing the user to gauge the severity of the problem.
Our panel comes complete with up to 20 individually switched flowmeters, and yet occupies only 3 or 5U of valuable 19" rack space, depending on configuration. It is very simple to install and connect.
Alarm Flowmeter Panel
When you need to monitor your assets individually from a remote location our Alarm Flowmeter panel might provide the solution; Occupying 3U of rack space, and powered by an external 12vDC supply,the panel will monitor the flow rate of either 5 or 10 individually switched outputs, providing a self-resetting remote alarm in the event of high or low flow.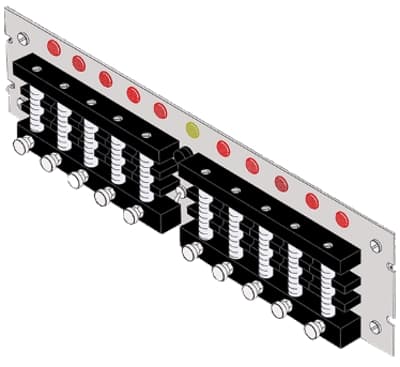 Conventional
11616/F1
5
3U
19″
N/A
11616/F2
10
3U
19″
N/A
11608/F1
5
5U
19″
N/A
11608/F2
10
5U
19″
N/A
11608/F3
15
5U
19″
N/A
11608/F4
20
5U
19″
N/A
Alarms
13903/F1
5
3U
19″
12 V DC
13903/F2
10
3U
19″
12 V DC