High Voltage Inc manufactures a variety of portable AC insulation testers which range from 30kVac @ 3kVA to 300kVac @ 7kVA. These inexpensive, compact and lightweight units are ideal for testing equipment such as overhead apparatus, switchgear, bucket trucks and liners (ALT designed to meet ANSI A92.2 testing requirements), insulated work platforms, bushings, circuit breakers, reclosers, hot sticks, fuses, arrestors, motor windings, bus ducts, rubber products and insulators.
All portable AC test sets include:
An external safety interlock
A zero-start safety interlock
Self-resetting over current protection
Guard/ground return modes
HV on/off and main power pushbuttons
Rugged meters with glass windows that eliminate static build-up
A robust, field proven construction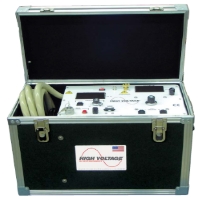 The PFT-302CE 0 – 30kVac @ 2kVA test set was designed specifically for the European market where it was recognised that there was demand for a CE Marked a single piece 30kVac unit. This unit has the added benefit of being a suitable source for Partial Discharge testing with an output of <10pC .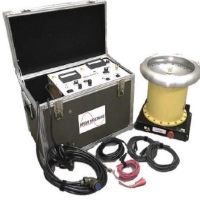 The PFT-652CM(F) 0 – 65kVac @ 2kVA test set is the latest model to be released by High Voltage, Inc. This highly portable CE Marked two-piece test set provides a continuously adjustable AC voltage typically used to provide a pass/fail AC overvoltage withstand test on low capacitance HV apparatus.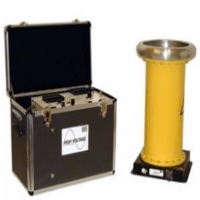 The PFT-1003CM(F) 0 – 100kVac @ 3kVA test set is a two-piece HV insulation tester. Like all AC Hipots in the High Voltage range this model includes a dual range kilovolt meter, triple range output current meter and a guard/return mode that enables measurement of the total current to ground or only the current flowing through the sample under test.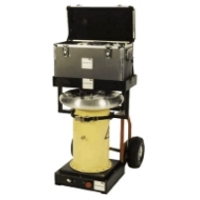 The unrivalled power to weight ratio of the ALT-120/60 makes it the most powerful truly portable AC Hipot on the market. With a rating of 7kVA and continually adjustable AC output up to 120kV the ALT-120/60 is an extremely versatile AC test set. This versatility and a very generous duty cycle allows for numerous sequential tests and extended time testing applications.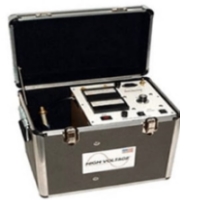 The High Voltage, Inc PFT-103CM(F) 0 – 10kVac @ 3kVA test set is a single piece unit with a shielded cable output for fast and easy test setup.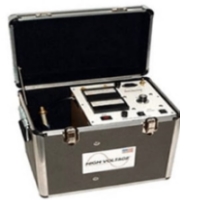 The PFT-301CM(F) 0 – 30kVac @ 1kVA test set is the lowest powered AC test set manufactured by High Voltage, Inc.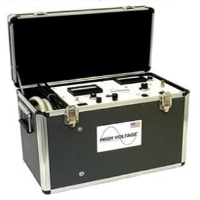 The High Voltage, Inc PFT-303CM(F) 0 – 30kVac @ 3kVA test set is a single piece unit. All the 3kVA AC Hipots are compensated enabling testing of 3kVA loads with a power draw of 1.5kVA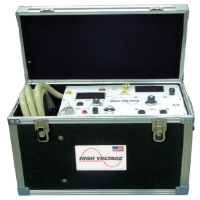 The PFT-503CM(F) 0 – 50kVac @ 3kVA test set has the highest voltage rating of the single piece AC test sets. The versatility and competitive pricing of this highly portable unit makes it High Voltage Inc.'s bestselling HV test set. A benchtop version is also available.
A hand cart option is available for the PFT-1003CMF.